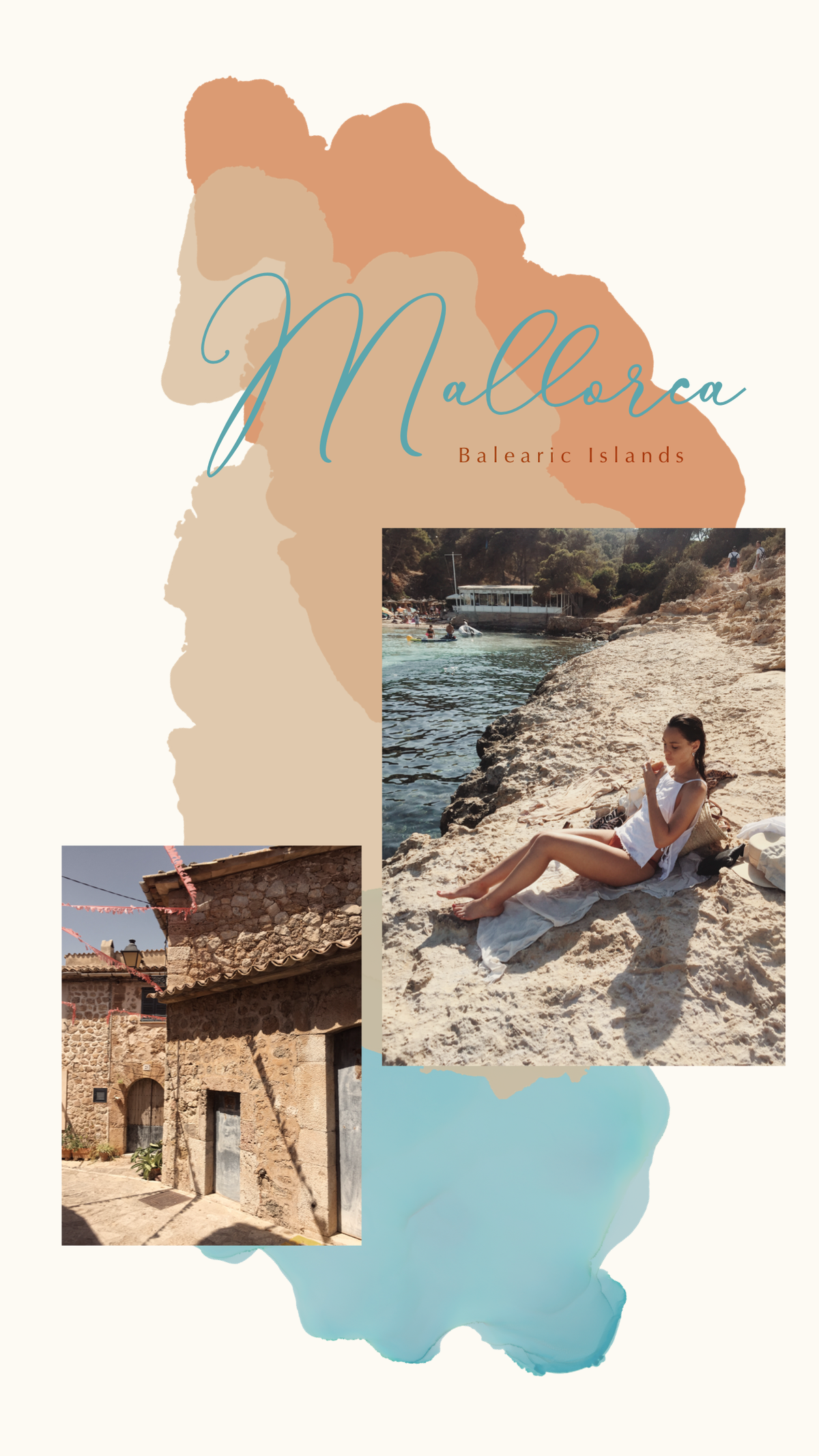 Being on the island of Mallorca is like a dream, surrounded by beautiful, intense shades of blue and the sun warming your face, you'll curse the gods that you weren't born here and wonder why you don't chuck it all to live here for the rest of your days. This Balearic jewel of an island easily contains some of the most stunning beaches and landscape I've ever come across. Here are some of our most beloved tips, that will give you a taste of how sweet it is to make Mallorca your home (even if its just temporarily!)
DEIÁ
Deiá is a fairy tale-like village located underneath the jagged mountains of the Tramuntana range. wandering the narrow streets and seeing historic walls draped in bougainvillea and jasmine gives you the feeling that everywhere you look is a potential painting.   Deiá has a reputation as the preferred place for many artists; this may be due in part to British writer Robert Graves who found inspiration here and composed his famous I Claudius in the village. Perhaps that is why this coastal town has had such a magnetic effect on creative figures over the years, drawing in icons from the worlds of art, fashion, music, film, and literature. Deià is so aesthetically pleasing you can't help but fall in love with this town.
SÓLLER
Sóller is a beautiful rural town, set in a lush valley of orange groves between mountains and the sea. Soller has been popular with day trippers for some time now, they tend to arrive on the vintage tram from Palma and seem to do little but sit outside the cafes soaking up the towns atmosphere and sunshine. With tapas bars, a fine selection of pastry stores, local handmade ice-cream and freshly squeezed orange juice, there is little temptation to move on.
Es Torrent de Pareis
Es Torrent de Pareis -located on the west coast it is one of the largest Mediterranean gorge canyons. This place beautiful cove is a hidden beach however it is a destination for tourists so make sure you arrive early and leave before the bus loads of tourist arrive for 2pm. Despite all the visitors flocking here to view the stunning scenery, it is a pretty spectacular place and high on our recommendation list.
Cala Portals Vells
A bumpy track from Magaluf leads through pine woods to this beautiful calm little cove. Located at the southwest tip of Palma Bay, featuring lovely soft white sand and crystal clear waters. This remote natural beach is popular with locals as there are generally lesser crowds here due to its small size and is yet another beach on Majorca where you'll need your own transport to reach it.
Drive down to Sa Calobra
This beautiful drive will not disappoint and was by far a true highlight, winding through dramatic landscape, natural wonders and ending up at a secluded beach it makes almost everyone feel like they are in a hot new car commercial, i have never seen anything like the road to Sa Calobra.